Turning the spotlight onto one of our international Aventon dealers, we're thrilled to share the story behind The Bike Garage and how it has become an Ontarian one-stop shop for all things bicycles! In addition to being one of our own stellar authorized dealers in Canada, The Bike Garage has become a community staple for its tailored, individualized experiences when it comes to customer care and whole-hearted passion for what they do. Located in Lindsay, Ontario, we had the absolute pleasure of speaking with The Bike Garage's owners and operators, Allen and Tusia!
THE BIKE GARAGE'S FOUNDING STORY
Involved in the service industry for over 40 years, Allen's entrepreneurial spirit shines through in all that he does; From working in waste recycling with a diligent service-oriented mindset, giving 110% of himself to his work, community, and people served, to selling his business to his son and welcoming retirement. Being business-savvy, it wasn't until he had a need for an electric bike, did he realize he discovered yet another opportunity to put people first and give back through service.
About six years ago, Allen just wasn't getting the distance he wanted on his pedal bike, i.e. traditional bicycle, due to difficulties with his lungs. Having the ability to bike a longer range was important to him, therefore he looked into electric bikes. More specifically, coming across Pedego, which, at the time, was recruiting new dealers throughout Western Canada. Knowing the instrumental impact ebikes had on his own ability to ride farther without overexerting himself, Allen knew others could also benefit from assisted cycling. In 2017, he quickly came out of retirement and opened his first bike shop, solely carrying Pedego electric bikes. He saw such great success and demand for electric bikes in the Western Canadian community, that in 2018, he and Tusia opened their second store: The Bike Garage. Rebranded and a one-stop shop for all things two-wheeled, The Bike Garage sells and services all traditional bicycles, electric bikes, and offers a wide selection of bike accessories!
HOW THE BIKE GARAGE CROSSED PATHS WITH AVENTON
Just as word-of-mouth referrals have turned The Bike Garage into an Ontarian favorite bike shop, word-of-mouth is how Allen and Tusia learned about Aventon! While on a trip in California, Allen met the former owner, Glen, of Hamilton Electric Bikes (another Aventon dealer located in Canada!). Glen had also opened Hamilton Electric Bikes initially as a dedicated Pedego retailer and transitioned to being a multi-branded bike shop before they had. After hearing about the versatility and accessibility of our products, not to mention the affordability aspect, Allen and Tusia got into contact with us about two and a half years ago and the rest has been history!  
They shared which Aventon electric bike is their personal favorite with us. Tusia said she prefers the sleek look of our bikes. Although the Soltera and Aventure models are built for two completely different terrains and cater to different styles of riders, she absolutely loves the sleek look they both have: integrated batteries, lights, and an overall beautiful design! She doesn't typically ride electric, but when she goes longer distances, it's going to be on one of these two sleek ebikes, saying, "it changes your 60-year old into 20-year old legs; If you can only do 2-3 miles on a regular bike, you'll go 10, 15, maybe even 20 on an ebike without worrying how you'll get back home!" Similarly, Allen's favorite Aventon model is the Aventure for its all-terrain versatility and rugged look, not to mention some of their friends also adventure on their Aventures! Coming in a close second is the Next-Gen Pace; Allen says it's light, easy to jump on and maneuver, and a favorite to run around town grabbing supplies for the store. With rear lights, Next-Gen was a definite home run.
What Allen and Tusia love most about Aventon electric bikes is also what their customers like most! They told us that while reviews read online is what initially brings customers in through the door, ultimately it's their knowledgeable team guiding them through the process to find what they really need, as well as the look and feel of Aventon, that solidifies their decisions. Tusia says the selling point truly is seeing Aventon's ebikes in person: slick designs, alluring colors, and the opposite of bulky!
AN EMPHASIS ON PERSONALIZATION AT THE BIKE GARAGE
Everything done at The Bike Garage is done with a personalized touch. When a customer walks in, Allen and Tusia's team will never just push any bike onto them. Instead, they'll probe to see what brought them in, what they're looking for, or even offer their expert insight into what they think would be a great selection, narrowing it down to roughly 3-4 bikes that check their boxes to find what they need. Located on a large lot, the team even encourages untimed test rides to truly get a feel for the bike to determine if it's right for them, but the individualization doesn't stop there.  
At the core of their work is listening to their customers. With Tusia predominantly marketing their products and sourcing new ones, there's nothing she won't do to find her customers what they're looking for. Whether that's someone coming in asking if they carry the lightweight Kask helmets Tour de France cyclists use or looking for an Aventon ebike they don't currently have in stock. Regardless of whether it's on the sales floor or on the phone, she'll make sure that if she doesn't have what someone is looking for, she'll find a way to get it for them. Moreso, keeping in contact with them every step of the way until they leave her store with a beaming smile. Tusia's goal is for anyone who visits The Bike Garage to experience a fun and excellent adventure with them, both in-store and beyond!
SPECIAL SERVICES OFFERED AT THE BIKE GARAGE
In addition to their determination to ensure their customers are having fun, their needs are being met, and their queries are being heard, The Bike Garage offers a multitude of special services, with the most well-known being their bike servicing.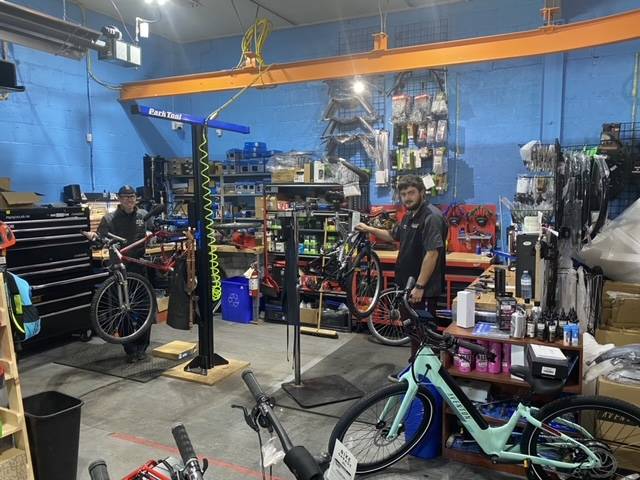 Bike Services
Offering repairs, services, custom builds, and more, the technicians at The Bike Garage are committed to finding creative solutions and getting their customers back to riding. Whether that's ensuring your bike is always performing at its peak, needing routine maintenance, or modifying your bike. Tusia says their customers will drive hours if that means their head mechanic, Eric, will work on their bike; With over 38 years in the business, his constant, creative, out-of-the-box thinking is what customers trust and keep coming back for. Tusia explained Eric's most recent project: A woman wanting to add a Burley pet trailer onto the back of her Bintelli trike. With the trike having no inherent functionality to carry a trailer, Eric safely created a secure connection to pull the Burley pet trailer, allowing their customer to share their favorite pastime with her furry friend. Listing to their customers and working tirelessly to actualize their needs are just some of the foundations of what the team at The Bike Garage does!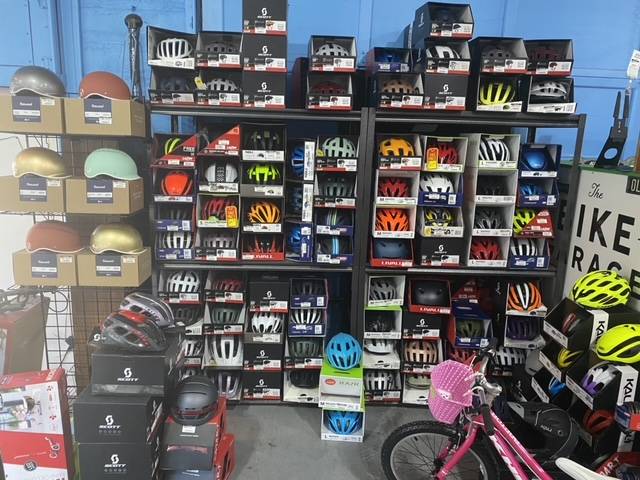 ALLEN AND TUSIA'S FAVORITE PART OF THE JOB
Everyone has a clear "why" they do what they do; For Allen, it's interacting with people. For Tusia, it's the smile on someone's face when they walk away with what they were looking for. Working primarily on the floor with the bikes, Allen told us that he loves people and interacting with them, whether it's cracking jokes or bonding over shared interests. One of his favorite parts of what he does is seeing his previous career come full circle; "On top of meeting new people all the time, we have generations of people I worked with from the waste recycling business coming in and are buying their kids a bike." Integrating fun into every step of the day, he loves to make every trip to The Bike Garage a lighthearted and joyous experience.
Running the marketing operations and developing their product line, Tusia's favorite part of the job is knowing she made someone's day with the items she meticulously sourced. Whether that be the same colored helmet that matches their Celeste Aventon Pace electric bike or hearing the bike they've been ever-so-patiently waiting for is finally back in stock. She loves watching people leave with their brand new bikes and feeling the happy energy they radiate, especially when they follow up weeks later sharing photos and about their experiences!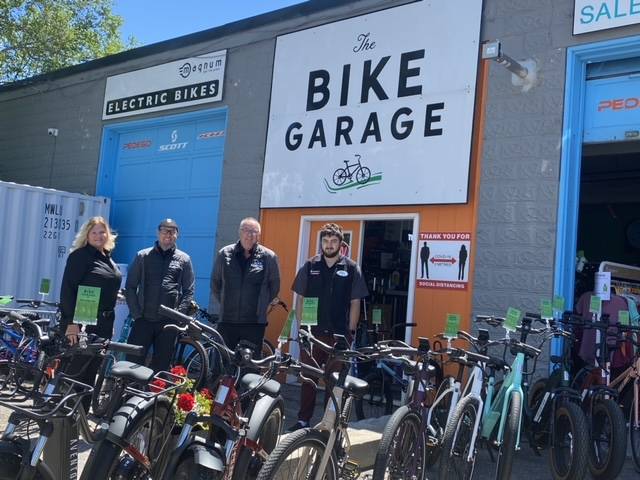 READY TO CHECK OUT THE BIKE GARAGE?
The Bike Garage is a staple in the community and a go-to for many, both locally in Lindsay, Kawartha Lakes, as well as surrounding cities within the province of Ontario! Known for its exceptional customer service, dedication to its products, and passion for people, The Bike Garage is trusted by many and traveled to by even more. Although their customers typically come in with a general idea of what they're looking for given word-of-mouth recommendations and reviews, ultimately, it's The Bike Garage teams' commitment to going above and beyond, creating a fun and inviting environment, and connecting with consumers' needs that validate peoples' trust in them and creates their lasting ties. Learn more about the products The Bike Garage carries, how to contact their team, as well as schedule a service appointment. And if you're interested in test riding or purchasing an Aventon ebike, stop by The Bike Garage in Lindsay, Ontario!