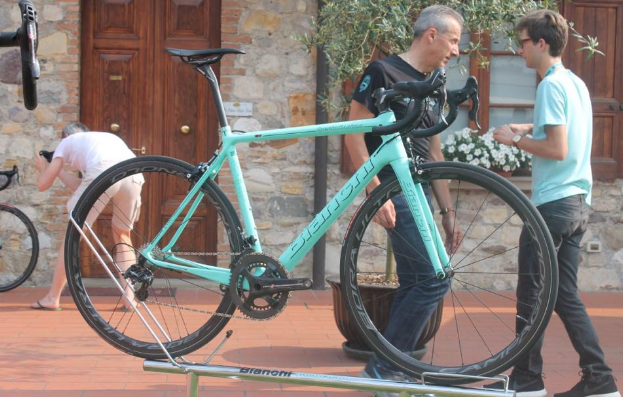 Get to know Bianchi road bikes with our complete guide
Italy's Bianchi was founded way back in 1885 and, rather than relying solely on its heritage, it continues to produce some of the
most technologically advanced bikes out there.
It has a large road bike lineup designed for various different types of riding, with prices from $1600.00 right up to $17,750.00,
so there are options for most budgets. 
Here's what you need to know in order to choose the right option for you.
Specialissima
The Specialissima is the lightest road bike in Bianchi's range with a claimed frame weight of just 780g (55cm model in black finish)
and a fork weight of 340g. It's built to a race bike geometry and is one of the models that uses Countervail (CV) technology.
Countervail is a structural carbon system with a viscoelastic resin from Materials Sciences Corp that's embedded within the frame's carbon layup. The idea is that it cancels out road vibration to reduce muscle fatigue and save energy while improving handling and control. Countervail is exclusive to Bianchi in the cycling industry.
Here's our story on the launch of the Specialissima
"The Countervail soaks up road vibration, all that little buzz that you don't really pay attention to, but once it's gone it's a marked improvement," said road.cc's Stu Kerton when he reviewed the Specialissima. "It means you can get on with the business in hand of getting the bike to the bottom of the hill as quickly and as easily as possible.
"The benefits are noticeable, especially towards the end of an 80-mile ride. You don't get so much fatigue in the arms and upper body."
Our review bike, built up with Shimano's Dura-Ace components, weighed just 6.35kg yet the frame was very stiff.
"Acceleration is phenomenal," said Stu. "Power down, the legs spin, 'snick', the chain drops a cog and the Specialissima surges forward, optimal cadence is passed, 'snick' again, and the whole process recurs. It becomes addictive and so much fun that you actually look forward to stopping so you get to do it over and over again."
Read the full review of the Bianchi Specialissima
The Specialissima is one of the bikes that has been ridden by the LottoNL-Jumbo World Tour team, — to be known as Team Jumbo-Visma in 2019 — and nothing raced at that level is ever cheap! It's available in various different builds, all of them based around either Shimano Dura-Ace, Campagnolo Super Record or SRAM Red eTap groupsets, the highest level offering from their respective brands.
Even the most affordable complete bike is going to set you back $11,400.00 — that's with Dura-Ace and Fulcrum Racing Zero Nite wheels. 
Buy if: You're after a lightweight superbike that's fast and reactive... and you have a high disposable income!
Oltre XR3 Disc
Bianchi launched a disc version of its Oltre XR3 in 2018. As well as the brakes, the bike has a new fork and a tweaked rear end for the flat mount callipers. It is a smooth-riding speed machine that just devours the miles.
Read our Oltre XR3 Disc review(link is external)
The most affordable Oltre XR3 Disc comes in a Shimano Ultegra build for $6300.00, while the range goes all the way up to $8050.00 for Shimano Ultegra Di2 model.
Buy if:  You're after a fast bike with a very high ride quality.
Oltre XR4 Disc
Bianchi announced a disc version of the Oltre XR4 in 2018. At the time of writing, we have one in for review at road.cc, but we've not completed the process. 
The Oltre XR4 Disc is available in several builds, starting out with a Shimano Ultegra Di2 version for $10,150.00. If you fancy the top-level option with Shimano Dura-Ace Di2 components, it'll set you back $14,700.00
Buy if: You're looking for a superbike performance with the control of disc brakes.
The Aria Disc retains all of the good bits of the rim brake version, plus an improved braking performance, especially in wet conditions.
Read our Bianchi Aria Disc review
The Bianchi Aria Disc might not offer quite the spark and dynamism of the higher level Oltres, but it's still a very good bike built with tried and tested aero features. 
This bike responds quickly and handles sharply. If you're a performance-focused rider – whether a racer or simply someone who likes to ride fast – it's certainly worthy of serious consideration.
Buy if: You want a responsive aero road bike in a race geometry with the all-weather stopping abilities of hydraulic disc brakes.
Infinito CV Disc
When Bianchi added the Countervail technology to the Infinito back in 2013, it also announced disc brake versions of the bike. The Infinito CV Disc carries the same styling cues as the non-disc Infinito CV but more carbon fibre has been added in key places, in the stays and the fork, to handle the forces associated with disc brakes. Fortunately, it offers the same exquisite balance of smoothness and stiffness.
Prices start at $6950.00; that's for a bike with an Ultegra groupset and Fulcrum Racing 618 DB wheels.
Read our review of the Infinito CV Disc
Buy if: You want a high-end endurance bike that offers both speed and comfort.
Via Nirone 7
The Via Nirone 7 is made from hydroformed and triple-butted 6061 aluminium alloy tubing to an endurance-friendly geometry.
Despite being the most affordable road bike in Bianchi's road bike range, the Via Nirone 7 comes with Kevlar inserts in the carbon legged fork and seatstays – known as K-Vid technology – designed to filter out road vibration for a higher level of comfort and less fatigue. 
The cheapest of the Via Nirone 7s comes with a Shimano Claris groupset and is priced at $1700.00. The $2350 version is with a Shimano 105 groupset. Like all of Bianchi's endurance road bikes, the Via Nirone 7 models come with compact chainsets (with 50/34-tooth chainrings rather than standard 53/39 setups) to help take the pain out of the climbs. 
There are three All Road Via Nirone 7s too, that we'll deal with separately below.  
Buy if: You want a capable endurance road bike at a reasonable price.
All Road
Bianchi offers its Impulso in what it calls All Road builds. 
"These bikes are designed for those who have changed the road racing mentality into something different," says Bianchi. "The All Road is a mountain bike, a road bike a cyclocross and a trekking bike all-in-one. The All Road bikes can be used in a marathon event but also will take you out to explore the raw finish roads."
Each of these bikes is equipped with flat mount disc brakes, a compact chainset and 32mm or 35mm tyres.
The Impulso All Road GRX400 $3250.00 or GRX600 $3450.00 is built around an aluminium frame and a full-carbon fork. You get a Shimano 105 groupset and space for tyres up to 40mm wide.
Like the other All Road bikes, the one we reviewed had been given the gravel/adventure treatment to create a bit of a do-everything machine. We just felt that its weight (10.7kg/23lb 10oz) took the shine off what is quite a pleasant bike.
Buy if: You want a bike with on and off road capability.
Interested and want to learn more about the Bianchi brand , Come on in and we can help you get acquainted. As well here are a couple of links to the Bianchi story.